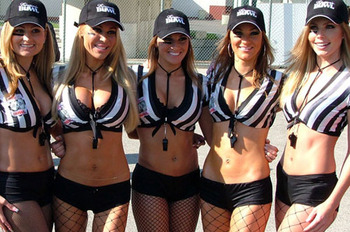 Yep, that's right. I'm watching EVERY NFL game this season. It will take up most of my free time as well as my bed time, but as the Beastie Boys once said, "No sleep til Brooklyn." Here's my thoughts on every team in their first game:
49ers vs. Packers
-Wow, what an impressive performance. That is definitely the fastest, most physical, and most athletic defense in the league. They boast top end talent at every level of the defense and did not surrender any big pass plays from Aaron Rodgers – no easy feat.

The Niners have a real meat and potatoes offense. The offensive line is probably the biggest unit in the league, and I'm a big fan of their fullback Miller. Alex Smith had probably the second best game of his career. He'll never threaten defenses deep due to his limited arm, but he made all the safe throws, did not turn it over, and converted twice in the red zone, one of the lone weaknesses of last year's team. He's someone you need to blitz because he has a tendency to flush out of the pocket or take a safe sack. While he has the legs to scramble, he is not very accurate on the move.
-Perhaps the game plan did not call for many shots down the field in order to slow down the 49ers pass rush, but they had little success when they did attempt it. A 30+ yard pass play to James Jones was called off due to an offensive pass interference that he did not even need to do to get the catch. The Niners were still able to generate a good amount of pressure, yet Rodgers was still able to elude a few would-be sacks on about 28 other NFL QBs.

The defensive backs could be a cause for concern again. I felt they played with too much of a cushion, especially on a guy like Crabtree who is not a deep threat and against a QB lacking arm talent. After a misleadingly "down" season in terms of sacks, Clay Matthews showed why he is one of the best in the game. He bull rushed and bent the edge on Joe Staley for a pair of sacks.
Panthers vs. Bucs
-Call it a perfect storm for the Panthers on Sunday. The run game was absolutely squashed and it put the offense in a lot of bad spots. The backs were continuously met in the backfield, and it put them in a lot of 3rd and longs. No wonder why they converted only two of ten third down opportunities. The game was never out of reach, but they continually shot themselves in the foot. Cam Newton's first INT was a momentum killer. Joe Adams just had a nice punt return that put the team in Bucs territory. The very next play, Newton tried to laser a ball in around multiple defenders. The ball got broken up, and Ronde Barber was able to intercept it and return it to Panthers territory. Before the first pick, Newton looked like his old self. He did not step into his throw on the second pick, but he looked fabulous in the first half.

The run defense looks improved, but someone besides Charles Johnson will need step up in pass rushing this year because the secondary is not good enough to make up for it. It could be a major cause for concern if opposing offenses focus on double-teaming Johnson.
-What a methodical offense. Josh Freeman more than lived up to his reputation as a dink and dunker. Of his 16 completions, a whopping 9 went to running backs and fullbacks. The Greg Schiano offense was run, run, and run. And when they don't run, they play-action it. The mindset of this offense is to dominate time of possession and eventually break the defense's will with the run. The strategy clearly worked (37+ minutes of TOP), and I think they can get away with it early in the year because players are still not in top shape and they play in the South Florida heat and humidity. The Panthers clearly looked worn out at the end.

I just question if they have the defensive talent to support this style of play later in the season. That being said, Gerald McCoy showed why he was a former top 5 pick. He is extremely quick against guards in the run and pass. He absolutely dominated Panthers guards Aminu Silatolu and Jeff Hangartner. Rookie linebacker Lavonte David was flying around as well.
Patriots vs. Titans
-The offense looks about as smooth as ever. Brandon Lloyd ended up with respectable numbers, but he and Brady could not connect on a few deep throws. It will come in time. Stevan Ridley looks like a real game-changer on offense, however. He's physical, quick, and has speed to get to the outside. He had great success on a few toss sweeps and was able to get to the second level. He is a major upgrade over BenJarvus Green-Ellis. Nate Solder could be a liability in pass protection, but he looked very athletic in run-blocking. Logan Mankins did not have his best day but gets a free pass from me.

The defense looks better than last year. Rookie Chandler Jones uses his hands extremely well for a young player and certainly looks the part. The key for the defense will be the sustained health of Pat Chung and Ras-I Dowling, two injury prone players in the secondary.

-Jake Locker has an absolute laser. He definitely had one of the 10 strongest arms I saw. He is also effective at making plays with his feet. The stat line shows a good completion percentage, but when he misses, he misses bad. The offensive line did Chris Johnson no favors, but he still looks off. It might be only one game, but he does not scare defenses.

The Titans have kind of a no-name defense, but Kamerion Wimbley was a great offseason addition. He showed a great dip move off the edge and hunted down Brady for a sack.
Bills vs. Jets
-Sunday was probably a worst case scenario for a team who was the offseason media darling. To the average fan, almost no quarterback gets misevaluated and overly praised than Ryan Fitzpatrick. He has a terribly weak arm, makes poor decisions, and is the product of a quick passing attack. The pick six to Cromartie in trap coverage revealed how he has a tendency to predetermine his throws. CJ Spiller is an upgrade over the more heralded Fred Jackson. Watch out when he gets to the second level – true home run threat.

The secondary got abused, even underrated free safety Jairus Byrd. On the bright side, the run defense will finally not be an issue this year and Mario Williams will have 15 games better than that this year.
-The offense shocked everyone with how sharp it was. Sanchez made a Favre-esque shovel pass early in the game that Jeff Cumberland did not expect, thus leading to a turnover. He remarkably bounced back, however, utilizing his signature pump fake to perfection. The offensive staff really made it a point to abuse the rookie corner Stephon Gilmore as well as nickel corner Leodis McKelvin. The offensive line did an outstanding job in pass protection, so the key will be to see how he fares against a stiff pass rush. Stephen Hill made an immediate impact and game-to-game consistency is something to look for going forward.

The defensive linemen did not generate a lot of pressure, but the unit as a whole hit Fitzpatrick a number of times. The cornerback trio of Revis, Cromartie, and Wilson showed why they are the best in the business, as each corner had an interception. They took their foot off the pedal as the game go out of hand, but speed backs could be a recurring sore spot this year.
Bengals vs. Ravens
-Speaking of getting a free pass, how about Andy Dalton and the Cincinnati Bengals, who are now 3-7 in their last 10 games. In those 10 games, Dalton is sporting and 8:10 TD:INT ratio. How much upside does Dalton have? For a second year guy, he is pretty old (turns 25 next month). QBs don't peak until their late 20s, but it could be a long-term concern. AJ Green is an absolute force, but someone else will need to step up to take the pressure off of him. Perhaps the unexpected Andrew Hawkins is that guy, as he showed amazing run after the catch ability.

The secondary was in rough shape on Monday, but it should improve as Leon Hall works his way back to full strength and when rookie corner Dre Kirkpatrick returns. Speaking of returning, Carlos Dunlap will help the pass rush to team up with impressive interior rusher Geno Atkins. The Bengals have a good amount of young talent, but I have had a feeling all along that this will be a slide back year.
-Consider me one of the biggest Joe Flacco critics around, but he looked incredible. With his arm strength, he can make throws that only about two or three other QBs can make. The touchdown to Anquan Boldin was a clear illustration of that, as he leaned back against a blitz and tossed it 40 yards in the air and on the money. It is only one game, but he looks a little more comfortable when facing pressure. He'll be tested against Philly this week. The no-huddle gave Cincinnati fits. It will be interesting to see how teams prepare for it this season.

The defense certainly misses Suggs, but they blitzed to perfection on Monday. They surely carry the reputation as one of the hardest hitting teams in the league. It's almost downright scary seeing how violent the defense can be.
Chargers vs. Raiders
-Heading into the season, I was very skeptical they would make the playoffs. If Rivers was not hurt like he claimed last year, it made me worry…his deep throws lacked oomph and led to too many interceptions. I also thought the defense lacked any real impact players. One game does not change my mind, especially against Oakland (who I believe is a 5-6 win team), but there is reason for hope. Despite missing their best offensive weapon, Ryan Mathews, they were still able to move the ball despite averaging 1.6 yards a rush. Norv Turner used the screen game to perfection, attempted to use misdirection in the run game to keep the Raiders honest, and Rivers made the necessary throws to win the game.

The defense was better than expected, especially in terms of rush defense and pass rush. Shaun Phillips looks primed for a bounce back year and Melvin Ingram has an incredible short burst.
-Oakland Raiders: The kings of stubbing their toes. I don't know what it is, but year in and year out they kill themselves with penalties and ineptitude. Then when the long snapper gets hurt, it makes you think they're cursed. In their defense, it might not be fair to Palmer that he was missing his number one target in Denarius Moore as well as Jacoby Ford. It forced him into being a checkdown artist. Either way, all the offseason talk about how his zip is back seems like malarkey. That ball floats in the intermediate zones. Look for a lot of interceptions this year.

The defense actually looked better than I expected. I knew they had an impressive front four, but they did not get gashed too bad in the air and forced a lot of field goals. They weren't the reason why they lost last night.
Colts vs. Bears
-Andrew Luck's first INT was underthrown. Reggie Wayne made at least three spectacular grabs, two of which were one-handed. Luck shows a great cadence in his hard count and is smooth in pocket movement (outlined in my preseason rookie QBs article). For such a big guy, he is way more nimble with his feet than he should be. Luck is excellent at stepping up in the pocket to extend plays and convert passes. Donald Brown dropped a pair of easy passes, one of which that would have led to an early third down conversion.

They're really going to need Dwight Freeney (who left early with injury) and Robert Mathis to stay healthy if they do not want to be a bottom rung defense. Not having ILB Pat Angerer to help against the run is bad enough.
-From the get go, the protection up front was horrible as expected, but Cutler heated up when Freeney left the game with injury. Cutler made a living in the 15-25 yard range thanks to his rocket arm. The referees called a lot of pass interference penalties, but Brandon Marshall, Jay Cutler's old best friend, legitimately drew 2-3 calls. Cutler's 42 yard TD pass to Alshon Jeffery was a thing of beauty. That ball traveled 60 yards in the air and right on the money.

On defense, rookie Shea McClellin comes in at Julius Peppers's RDE spot and Peppers kicks inside to LDT. It's not like the Colts tout anyone special on their offensive line, but the pass rush looked prominent. They continually forced Andrew Luck to step up in the pocket. Going into the season, I told myself that the Bears would be better than the Lions this year. I like where I stand.
Jaguars vs. Vikings
-Blaine Gabbert has made strides as a passer. However, he missed a complete gimme touchdown early to Justin Blackmon on first and goal. He overthrew Blackmon and the team had to settle for a field goal. I was a bit surprised Blackmon did not have a bigger impact in the game, but he did eventually have a vital two point conversion late in regulation. Gabbert built a poor reputation last year for crumbling in a muddy pocket. He did have a few relapses this game, but he appeared to improve from last year. The offensive design also helped mask some of those weaknesses. He threw various types of screens, a shovel pass, and had many designed quick throws. It will be interesting to see if defenses wise up to the quick strike attack and force Gabbert to hang in there longer and connect on deeper passes. Maurice Jones-Drew wasn't able to bust any big runs, but he should round into form soon. He still laid a beating on a few DBs.

The defense wasn't able to generate much of a pass rush at all and will likely continue to be an issue as the season progresses.
-Percy Harvin is a wonder. He can cut on a dime, line up anywhere in any formation, refuses to go down, and issues a punishment on back end players. He's like a Swiss Army knife...definitely the most dangerous player in the league after the catch. Nobody would have every known Adrian Peterson was coming off a torn ACL. The lateral quickness is still certainly there, and he busted a big run in overtime to set up the winning field goal. Between Peterson, Harvin, and Kyle Rudolph, the offense has three young mega weapons so long as Christian Ponder continues to develop. He had a stronger arm than I remember (though nothing spectacular), but I didn't think he looked as good as his stat line.

The defense adjusted well to the Jaguars quick strike attack. Linemen were able to get their hands on a few telegraphed passes and linebackers and safeties began to anticipate short routes. Brian Robison impressed as Jared Allen's bookend, issuing a few QB hits as well as a pass deflection. The defensive backs were rarely challenged, but former second rounder Chris Cook was beat deep on a late touchdown that appeared to be the game-winner. He and the rest of the defensive back group will be tested with the top end QBs within the division.
Dolphins vs. Texans
-The Dolphins actually played reasonably well at first, notably Reggie Bush on offense. I have long been a critic, but he has established himself as a between the tackles runner. He has always been quick, but he looks a lot more decisive now and dances a whole lot less. The defensive line did a great job to stop Arian Foster when he ran between the tackles. Randy Starks played well against the run and pass and Paul Soliai looked great in the run game. The game got out of hand because of turnovers. The first turnover was an interception, but it was hard to tell if the blame falls on the QB or receiver. Maybe it was just a great play by Jonathan Joseph. Following that, there were two tipped ball interceptions and a fumble. This was all in the first half.

Even before Marcus Thigpen's punt return for TD, I liked the way he ran on kickoffs. I was actually mildly surprised the TD came via punt return and not kick return. He was better getting to top speed quickly instead of having great lateral quickness.
-The Texans got off to a sluggish start, especially the run defense. Offensively, they ran well on the outside zone runs and capitalized on turnovers when given a short field. Even though he is kind of stiff, I like the way Matt Schaub slide steps in the pocket to create space before a pass. He does not have great zip, but he demonstrates great timing. He looks fully healthy from last season's injury.

JJ Watt is an absolute monster. He was consistently winning at the point of attack, batted balls down, sacked the QB, and even lined up at RDE where he drew a holding penalty on Jake Long.
Falcons vs. Chiefs
-Julio Jones, yikes. The Falcons ran two good but blatant "pick" plays early in the game, one of which resulted in Jones's second TD. I've seen a lot of these plays in preseason and in Week 1. It will be interesting if the referees catch on to this. I found it interesting that the Falcons (unofficially) had seven snaps inside the 10 yard line and did not run once. That is an indictment on Michael Turner.

It was a close game until Ryan Succop missed a game-tying field goal in the 3rd quarter. Ryan responded with a long TD drive then another one play drive because Matt Cassel fumbled inside his own 10. It went from potentially a tie game to a 17 point blowout in the blink of an eye. It got worse when Cassel threw a pick on the next two drives. Game over. John Abraham can still bend the edge in his 13th season. I'm a fan of safety William Moore. He saved a big run, dove for an interception, and read a bootleg to force Cassel into a horrendous 3rd down throw. I'm real bummed that CB Brent Grimes is out for the year.
-Matt Cassel started out hot, but he really loops the ball in the intermediate zones and elevates the ball too much at times. He could have easily had 2-3 more interceptions due to that in addition to his poor decision-making. Eric Winston made a nice block on a big Jamaal Charles run that could have been a long touchdown had safety William Moore not made him stumble and loose acceleration. Not just on that play, but I liked the way the receivers helped out in the blocking game. It helped spring that from a 20 yard run to a 40+ yard run.

The Chiefs were really missing some key players on defense -- Tamba Hali, Brandon Flowers, and Kendrick Lewis. The defense didn't really pressure Ryan much, but Justin Houston could emerge as a good complement to Hali. He had a respectable rookie year last year and generated some good pressure on Ryan at times.
Eagles vs. Browns
-Vick started out hot (6/6) then makes an awful decision by throwing across his body. DeMeco Ryans is an instant difference-maker for the run defense, a much needed upgrade headed into this year. This was a real sloppy game by Eagles offense…penalties a plenty, Vick holding onto ball too long, botched snap, McCoy fumble, etc. In Vick's second pick, he had plenty of time, but his initial reads weren't open. He then forced it late to Harbor and the linebacker read his eyes to deflect it up for the INT. Vick's third interception was silly…he threw it sidearm when he didn't need too. The ball placement was consequently off to his target. It was too high and popped up into the air for INT. The last INT was another forced pass. He never looked off his primary read and D'Qwell Jackson jumped it…could have easily been the back breaker if not for the last drive.

At one point, they called 43 passes to only 16 runs. As good as DeSean Jackson and Jeremy Maclin are, Andy Reid has to realize that LeSean McCoy is the best offensive player on the team. No running back in the league has his lateral quickness.
-Ouch for Brandon Weeden. Early in the game, he overthrows Massaquoi for an easy 20-25 yard touchdown down sideline. He is off the hook for the first INT because Greg Little dropped a pass near the goal line. Travis Benjamin got outmuscled on a deep pass for second INT, but Rogers-Cromartie was with him in stride the whole time…Weeden saw single high safety and opportunity to throw, but it just wasn't there. The third pick was pretty brutal. The route combination was kind of poor as two receivers were running vertically in the same vicinity, but he forced the ball for no reason…he needs to learn that he's not tossing it up to Justin Blackmon against a D-I corner. I have no clue what he was doing with the last pick. Besides the four interceptions (if you can even say that at all), it was a downright brutal game for the rookie QB. Right tackle Mitchell Schwartz got a rude awakening to the NFL. He was repeatedly rag-dolled by Jason Babin. Rough day for Trent Richardson…couldn't get to the second level at all, longest run was 9 yards, and he botched an exchange. He's still working his way back to health, so it's something to monitor next week and beyond.

If there is a positive, the Browns defensive line played pretty well as well as the linebackers. They got reasonable pressure on Vick and held McCoy to only one 20+ yard run.
Rams vs. Lions
-The initial reading of final score suggests the offense did well enough to win but that the defense let the team down…definitely not the case. The defense had a pick six and set up team in good field position on another field goal. Another field goal drive started in Lions territory. They're not the reason why they lost. That being said, Bradford zipped a few nice passes on the drive for the go ahead field goal. On the lone offensive TD drive, he had a nice bucket throw to Brandon Gibson but was unsuccessful on the few other chances down the field otherwise, underthrowing a potential 70+ yard touchdown. The Rams offensive line was definitely one of the five worst I saw…they gave Steven Jackson zero room to run and it will only get worse now that they will be without their left tackle and center for extended time. It's never easy going up against the Lions front four, but the Rams haven't upgraded their line much if at all from last year.
-Maybe the microphones were closer to the field in this game, but the ball just thuds into the receivers bodies when Stafford throws it…it's amazing. He does a good job recognizing the hot read off blitz. However, he did leave a few balls high, and one of his interceptions looked like a predetermined throw to Megatron. His receivers did not do him any favors on some passes, however…a few dropped passes in there. Stafford did look phenomenal on the game-winning drive, as he had three 20+ yard passes before the dump off to Kevin Smith.

Corey Williams got great inside pressure even before his strip sack. The defensive line continually got penetration on runs and linebackers consistently shot through the gaps. Ndamukong Suh made two pretty spectacular plays, one against the run and one against the pass. On the run stop, he got penetration and threw the 230 lbs. Jackson to the ground with one arm. On a sack, he split a double team to get to Sam Bradford.
Redskins vs. Saints
-I saw countless WR screens on the first drive with RGIII in shotgun on nearly every snap. I don't think Redskins fans could have been any happier than that 88 yard TD pass to Pierre Garcon. Not only was it a great play, it was Griffin's first TD pass and it was the first run after catch TD they had seen in two seasons. The pass was a tad high, but Garcon made a great catch in stride and he was Griffin's second read. Impressive stuff. Even more impressive was the first play of the second quarter. On a bootleg to his left, RGIII is pressured by free safety Malcolm Jenkins. Griffin stiff arms Jenkins, goes back to his right, and throws on the run for a 26 yard completion on the sideline. The ball travels 36 yards in the air! The first TD was great, but that play was the "holy shit, this guy has arrived" kind of play. I love the way RGIII sells the ball fake on bootlegs and in the spread option…those plays and formations are going to be a headache for opposing defenses. I understand that the coaching staff places a lot of value on ball security, but Alfred Morris came off as a bit of a plodder…in my opinion, he is better suited to be a clock-killing back. Let Royster get the early carries and have Helu as the passing down back.

I don't profess to be a Special Teams expert, but I watched the "All-22" and have no idea what the hell Reed Doughty was doing on that blocked punt. Kudos to Jim Haslett for dialing up a great defensive game plan. DeAngelo Hall had a great day blitzing from the slot…he continuously got pressure. Ryan Kerrigan and Barry Cofield also had a good day getting pressure up front. All in all, the Redskins were the second best team I saw in Week 1.
-I don't give a crap what the box score says; the Saints got handled on Sunday and the game was never as close as it suggests. They scored a borderline garbage time TD and had a blocked punt for a score. Take those two away and they generated 18 real offensive points. It goes without saying, but Jimmy Graham is a monster. On his first TD, London Fletcher could not have covered him any better, but he just played basketball on him and got above the rim for the catch. That was definitely one of those great defense better offense type of plays. However, Drew Brees looked out of rhythm all day long. He was under duress many times but regardless was far less accurate than normal. I just looked at his box score and it was even worse than I had anticipated – less than 50% completions.

I don't think the defense was ready for what the Redskins threw at them. Either way, they need someone else besides Will Smith to step up in the pass rush game because Steve Spagnuolo is not a heavy blitzing coordinator like Gregg Williams. Smith was stonewalled by Trent Williams and hardly anyone generated pressure. I'm quite confident they will respond from this game, but the Saints were one of the most disappointing teams of Week 1. I just expected more from a team with a chip on its shoulder playing behind one of the league's most hostile environments.
Steelers vs. Broncos
-
The Steelers appeared to use a traditional fullback more often than in the past. I saw a lot more quick throws, especially to Brown to utilize RAC ability. In the first half, the protection was actually good considering the opponent. Part of that is attributed to the quick passing attack, however. I counted five red zone targets for Heath Miller. The third one he was wide open in the end zone, but Roethlisberger didn't put any air under it. Miller was targeted a fourth time in the 2 minute drill and this time Roethlisberger was able to connect for the TD. The Steelers really liked using route combinations with Miller and Mike Wallace down near the goal line. Doug Legursky did an adequate job filling in for Maurkice Pouncey late in the 2010 Playoffs, but boy was he bad when he filled in for Ramon Foster. He was constantly overwhelmed in pass protection. I can see why some of the Fantasy Football gurus prefer Jonathan Dwyer over Isaac Redman; Dwyer does a much better job of gaining yards after contact. Keep Redman as the passing down back.
A lot of Steelers talk in the offseason centered around if the defense was getting too old. People will probably point to the Demaryius Thomas touchdown as proof that the defense is slowing down. They might be right on that play, but I thought they still played well enough for most of the game. Things only went downhill when the Broncos went no-huddle. For a team that relies on creative defensive play-calling and blitzes, the no-huddle can have a crippling effect because it puts you on your heels and gives less time to dial up the proper play. It could be a concern down the road, but for now just move on because there are probably only 2-3 QBs who can run the no-huddle on Manning's level.
-Peyton Manning is still the smartest QB in the game. We all knew the arm strength wouldn't be all there (and he never had a rocket to begin with), but he didn't consistently throw a tight spiral early in the game…there were some wobblers in there. I don't think I have ever seen more illegal formation penalties in a game, and that goes for both offenses. On the Demaryius Thomas 71 yard TD, both Ryan Clady and Zane Beadles are able to get a block on safeties Troy Polamalu and Ryan Mundy to spring him free. You're not going to catch Thomas in the open field. The Broncos never had a great deal of success running the ball, nobody ever does against the Steelers, but there was a lot more room to run when they went to the no-huddle in the 4th quarter. In the broadcast, Cris Collinsworth astutely noted that Manning would check to a run anytime he saw a two deep safety look; when a safety came down to the box, he checked to a pass.
Obviously Elvis Dumervil and Von Miller are two of the best bookends in the game, but I liked what I saw from rookie defensive lineman Derek Wolfe. He did a good job operating against guards in passing situations. You have to give the defensive backs credit for not really allowing any big passing plays. When Mike Wallace's longest catch is 14 yards, you're doing something right.
Cowboys vs. Giants
- This was a really sloppy game from both sides. For two teams that usually engage in high stakes shootouts, this was a snore. Regardless, Tony Romo proved why he is a Harry Houdini-esque escape artist. He evaded many a sack and turned it into some major positive yardage. Kevin Ogletree awoke from a career long slumber to carve up the Giants. Despite a fluky 40+ yard run (seriously, it looked like a high school play), DeMarco Murray still ran effectively.
The biggest difference in the defense this year is the addition of its two cover corners – rookie Morris Claiborne and Brandon Carr. By and large, rookie cornerbacks struggle to make the adjustment to the NFL. Receivers are better, routes are run more efficiently, coverages are more complex, etc. For a guy playing in his first game while matched mostly up against Hakeem Nicks, he did a fabulous job. Carr played a solid game himself as well, but I was disappointed he missed a chance at an easy interception. On a long completion to Domenik Hixon, Carr could have easily taken down the jump ball had he not mistimed his jump. DeMarcus Ware's performance showed that he wants to have a death grip on the term "best pass rusher in the league."
-Wednesday was a real disappointing night for the defending champs. They became the first defending champs to lose the inaugural game since NBC started the "Kickoff Game" nearly a decade ago. Eli Manning still looked sharp as ever, but his offensive line did him zero favors. He did a great job of shrugging it off last year, but that unit is absolutely dreadful; the worst part is I think it is a worse unit than last year. Ahmad Bradshaw showed why he is one of the toughest backs in the league. He was still able to grind out some yardage and had an impressive touchdown to keep the Giants in the game. I was not surprised to hear reports that Hakeem Nicks is still recovering from his injury. He did not look like he was running at full speed.
Seahawks vs. Cardinals
-
Finally it was time for me to see the Russell Wilson hubbub from the past two months.
Like most rookies, you could see the flashes of why he was praised so much.
On a second half TD to Sidney Rice, he quickly worked through two progressions before finding Rice in the end zone.
He is also pretty elusive in the pocket; however, sometimes he bailed on the play too quickly, especially versus the blitz.
Russell Wilson's pick at the end of the half was misleading…he was pretty much just tossing it up deep for a prayer to get into field goal range.
Anyway, he led his team down for the winning drive but was plagued by two killer drops.
Marshawn Lynch didn't break any substantial runs, but he was able to push the pile and end up with an OK stat line.
I was a big fan of Seattle's defense. The Cardinals trot out one of the league's worst offensive lines, but Seattle completely squashed their running game. Red Bryant, Chris Clemons, Jason Jones, and Brandon Mebane do a great job of clogging running lanes. Speaking of Chris Clemons, he is one of the more underrated pass rushers in the game. He does a great job bending the edge and jarred the ball loose twice on John Skelton. For some reason the first swat was ruled an incomplete pass; the second swat forced a fumble that Arizona unfortunately recovered. Brandon Browner and Richard Sherman did a respectable job on Larry Fitzgerald until the final drive. Leon Washington showcased his extraordinary return skills, nearly sending both a kick and a punt return to the house. Nonetheless, both returns set up two separate Seahawks scores.
-John Skelton is an interesting quarterback. He can be completely erratic at times or make pretty poor decisions, but he can also sling the rock to move the ball down the field. With no running game whatsoever, he was still able to keep his team in the game. That being said, he did a pretty poor job with decision-making when flushed out of the pocket. On one specific play, he was trying to throw the ball away but kept it too close to the sidelines. It resulted in an athletic interception by Richard Sherman. After getting hurt with an ankle sprain late, Kevin Kolb came in and led his team to what ended up being the game-winning TD. For a guy maligned for his poor ability against pressure and blitzes, he made a key throw to Larry Fitzgerald for about 20 yards. He hit Fitzgerald right from where the blitz came.
On defense, I'm a big fan of linemen Calais Campbell and Darnell Dockett. Campbell has the most freakish length of any 3-4 defensive end in the league. He can get penetration on passing downs and can use his amazing wingspan to bat down passes. On running downs, he moves incredibly well down the line of scrimmage to take away stretch plays. Dockett was incredible at shooting through gaps and disrupting the runner as well as the passer. Even though he did not have a big run, I think Patrick Peterson is one of the two best punt returners in the league. He has such amazing vision, change of direction, and top end speed. He still needs to improve as a cover corner, however. He picked up two pass interference penalties with one that would have fans pointing the finger at him if the team lost.